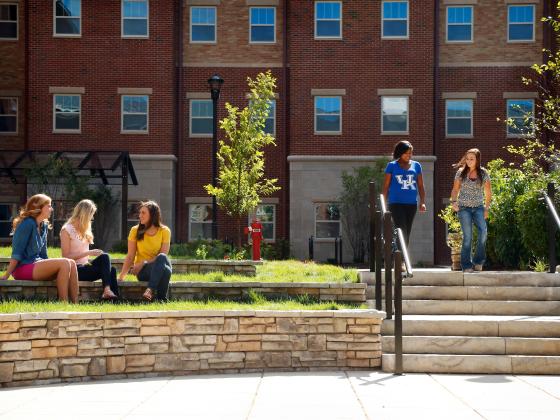 Living on Campus Resource Center
Contact Us
UK Campus Housing is here for you! Here you'll find the services available to you, policies, and other helpful information. If you have questions, we encourage you to contact us. 
160 Avenue of Champions, Ste. A382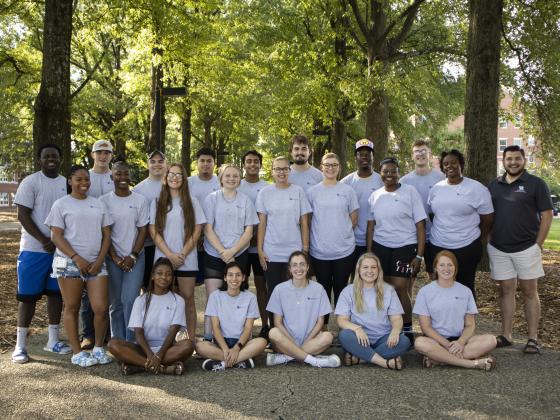 Maintenance & Custodial Requests
Do you have a maintenance request for your room? Our FIXIT call center is available 24/7 to assist you. Please fill out the request form below, or call us at 859-323-4948.
Internet
All residence halls include internet access. If you need assistance, please contact us.
Smith, Baldwin, Ingels and Roselle Halls:
Please call Auxiliary Services IT at 859-257-1591
All other residence halls:
Text SUPPORT to 66749
Call Whitesky support at 800-611-9837
Bicycles
The University of Kentucky recognizes the bicycle as a vehicle and encourages bicycling as a mode of transportation. Bicycle racks should be used at all times; do not chain bikes to benches, trees, handrails, or telephone poles. As with cars, bikes can be impounded if they are parked in violation.
Roommate Agreement
Living with a roommate is a new and exciting experience! In order to create positive roommate relationships, residents are encouraged to spend time within the first weeks of school getting to know each other and talking about shared expectations.
Conflict is a normal part of relationships and living with someone new can be hard. Part of navigating college life and managing conflict is being able to talk about your needs and work together to create a mutually beneficial and positive living and learning environment.
During the first few weeks of the semester, Residence Life staff will distribute roommate agreements to your UK email.  The roommate agreement addresses common themes that cause conflict. This roommate agreement will prompt you and your roommate to engage in a conversation about your wants and needs in your shared living environment. Residents should go through the roommate agreement form carefully and talk through what their preferences are for each area. Your Resident Advisor and Resident Director will be available to assist you with any questions during this process.
Room Changes
Students may make a request to change rooms beginning August 29 and can make requests up until September 12.
If you wish to change rooms or halls, talk to your RA and discuss the various options. After you have discussed this with your RA, contact the Campus Housing office to let them know their desire to change rooms. 
Campus Housing Office
859-257-1866
If the Campus Housing office is able to make the requested change, you must stay in your original room until the room you are moving to has been cleaned following the CDC's cleaning protocols. The room you vacate will also need to be thoroughly cleaned following the same CDC requirements.
Room Change requests will be managed on a case-by-case basis.
Visitation Policy
As a member of our community, you will likely make connections across campus. We want you to invite your friends back to your residence hall. Visitors can be checked in 24 hours a day. There are a few things we want you to know before you check your guest in.
Talk with your roommate about expectations for visitors in your room.
Residents can only host two guests at one time. All guests must have a UK or government-issued photo ID to check in.
All residents must escort guests back to the front desk to check out of the building.
A resident may be held accountable for the actions of their guests. Allowing another resident, guest, or animal to violate university policy is prohibited in the residence hall.
Residents are expected to escort their guests at all times and abide by all sign-in/sign-out procedures.
Cohabitation is prohibited.
Cohabitation exists when a person who is not assigned to a residence hall room uses that room as if they were living there and, potentially, hinders a roommate's ability to sleep, study, or occupy their room.
A person who is not a resident of the room is not allowed to stay for more than three overnights, 2 a.m. - 8 a.m., in any two-week period or as deemed excessive by the Resident Director.
Guests and residents are encouraged to wear masks in public areas, hallways, and elevators. In response to the COVID-19 pandemic, the university reserves the right to limit visitation based on public health concerns. Any change in policy will be communicated to residents via their UK email.
Damage to Student Rooms and Appeals Process
Student rooms and furnishings must be returned to their original condition at the end of the spring semester, or whenever a student moves out. If a room requires restoration or repair before it can be assigned to another student, the cost for this work will be billed to the immediate past residents of that room. The work may include painting, repair to walls and ceilings, and the repair or replacement of furnishings.
When students move into any room, they will fill out an online Room Condition Report (RCR) indicating the condition of specific items in the room at move-in. Students should carefully examine their room and make certain that the Room Condition Report for their room is accurate.
When students move out of their room, the room will be inspected by Residence Life staff members who will note any changes in the condition of the room on the same Room Condition Report. The student will then be charged for the cost of returning the room to its original condition.
Students charged with room damages will receive an email notifying them that they have a damage charge. 
Students can review damage charges and submit an appeal by visiting the Housing portal.
All appeals will be reviewed after the appeal deadline.
Students will receive an email if an appeal is approved or denied.
Any damage charge refunds will appear on the student's account.