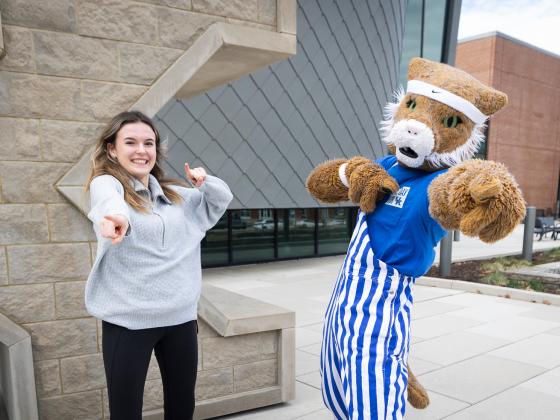 Big Blue Move-In 2023
UK Student Volunteers
We want YOU to join the Wildcat Welcome Team!
This fall the University of Kentucky anticipates welcoming another large freshman class to our campus. Our goal is to ensure they feel at home the minute they step on campus. Who better to welcome them to UK than you – our current students? 
Our UK Campus Housing team invites you and your student organization(s) to be part of the Wildcat Welcome Team during Big Blue Move-In August 13-16, 2023.  
Participating in Big Blue Move-In, and welcoming freshman to their new Kentucky home, is an incredible experience. It will give you and your organization an opportunity to welcome these students and their families to campus while promoting the benefits of belonging to the organizations you are passionate about.
Students completing one 4-hour volunteer shift during Big Blue Move-In 2023 can: 
MOVE IN EARLY at no charge.  All student volunteers who work at least one 4-hour shift will receive the option to move into their residence hall, and university owned and managed chapter houses for members of the FSL community, on Sunday, August 13.  
Be entered to win 1 of 4 $500 UK Bookstore gift cards. We are giving away four (4) $500 gift cards from the UK Bookstore. All student volunteers who work at least one 4-hour shift will be entered into the drawing.

Free T-shirt.  All student volunteers will receive a T-shirt and have the option to write their organization or class year on the back of the shirt.

Get a jump-start on your volunteer or service hours for next academic year. Attendance during Big Blue Move-In will be tracked by UK Campus Housing. If needed, student volunteers can request documentation of their service hours to provide their major or student organization. 

Promote an organization that is close to your heart! Use move-in to recruit new members by sharing the benefits of belonging to your organization.
What will I be doing as a volunteer?
Think back to your own move-in day and recall the excitement you felt when you arrived on campus to begin your college journey. Who made you feel welcome and how did they make you feel like you were part of the Big Blue Nation?
As a member of the Wildcat Welcome Team, your primary task will be offering a friendly face to students and their families as they arrive on campus. All volunteers will be expected to smile, provide warm greetings and offer directions to anyone who appears lost or uncertain. Tasks during your shift may include:
Event set-up and break-down
Helping collect and distribute carts
Assisting with unloading belongings from vehicles
Big Blue Move-In Training 
We ask all volunteers to review information provided for Big Blue Move-In HERE.
Join the Wildcat Welcome Team
UK Campus Housing is looking for volunteers to participate in giving a big blue welcome to all new students arriving on campus August 13 - 16, 2023. Both organizations and individuals can sign up to join the Wildcat Welcome Team.