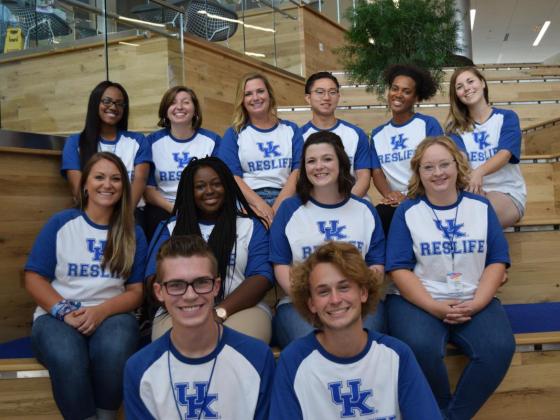 Assistant Resident Director
The ARD is a vital leader on the Residence Life staff. ARDs assist with the overall operation of the residence hall, assist the Resident Director, and provide leadership for staff members and students.
Position Description
Responsibilities
The Assistant Resident Director(ARD) is a live-in, part-time staff member and full-time graduate student that assists with the management of a co-ed undergraduate residence hall of between 500-800 residents. The ARD supervises a staff of 5-7 Desk Clerks and is responsible for assisting the administrative functions of the hall with assistance provided by a full-time Office Assistant. The ARD assists with creating an inclusive living-learning environment in the residence hall. They also help coordinate a wide variety of opportunities for the academic and personal growth of the residents. Overall responsibilities include, but are not limited to, the following:
Assist with the day-to-day supervision of Resident Advisor staff.
Supervise Desk Clerks and front desk operations.
Serve as co-advisor to Hall Government.
Assist the RD to conduct informative weekly staff meetings.
Assist with regular one-on-one meetings with RAs and Desk Clerks.
Assist the Resident Director with RA and Desk Clerk evaluations.
Develop and maintain positive, professional relationships with residents.
Monitor and evaluate emergency and crisis intervention by staff.
Attend floor and hall programs regularly.
Assist with programming purchases including PRDs and Pro Card Use.
Be On Call for assigned area for 2-3 weeks each semester, keeping Leadership On Call informed of on-going issues in the area.
Attend Senior Staff Meetings, Area Meetings, and/or Committee Meetings as required.
Attend monthly departmental All Staff Meetings.
Fulfill all Resident Advisor Expectations for a floor/wing (see RA Position Description).
Qualifications
Be a full-time graduate student at the University of Kentucky.
Maintain a minimum 3.0 GPA while a graduate student.
Have at least one year of previous residence hall experience (other types of work experience can be substituted).
Benefits
The ARD position is a full-time Graduate Assistantship, with employment dates from late-July to mid-May. As full-time GAs, ARDs are provided a standard tuition scholarship and health insurance through the Graduate School.In addition, ARDs receive:
Annual stipend of $5250 paid bi-weekly.
Partial meal plan and plus account worth $650 per semester.
ARDs receive a furnished room located in the assigned residence hall with all utilities (with cable TV & Internet).
Other Information
Upon offer of employment, successful applicants must undergo a national background check as required by UK.
The University of Kentucky is an Equal Opportunity Employer
How to Apply
To apply for a Graduate Assistant Resident Director position, follow these three steps:
https://ukjobs.uky.edu/ and click on "Student."
Search for the job title "Graduate Assistant Resident Director."
Follow the instructions for submitting a UK Online Application.  Be sure to attach a letter of application and resume.
Upon offer of employment, successful applicants must undergo a national background check as required by UK Human Resources.
For more information, contact Lisa Lockman, Assistant Director at (859) 257-4783 or lisa.lockman@uky.edu or Kenyatta Jeter, Associate Director at (859) 323-3246 or kenyatta.jeter@uky.edu.
Application Cycle
Applications are currently closed for the 2022-2023 academic year.