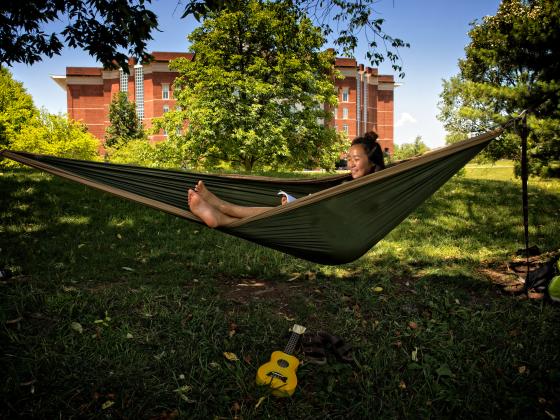 The University of Kentucky proudly offers Summer Housing to students needing to stay in Lexington between the spring and fall semesters. Our summer residents might include students participating in an internship or taking summer courses. Even students who simply prefer to remain in Lexington for the summer can apply for Summer Housing, whether they are taking summer courses or not. 
Any UK or BCTC student enrolled in either the Spring, Summer or Fall 2023 semesters is eligible to apply for Summer Housing, as long as they are in good academic or financial standing.
Summer residents will live in Woodland Glen 4 (WG4) and may purchase Flex Dollars to use in dining facilities rather than purchase an individual dining plan for the summer months. While students may still choose a roommate or roommate groups, they will not participate in formal Room Selection. UK Campus Housing will manually assign students to rooms within the residence hall.
The Summer 2023 Housing Application will officially open on March 1.
The 2023 Summer Housing Contract can be reviewed here.
If you have any questions about Summer Housing, please contact UK Campus Housing at ukhousing@uky.edu or 859-257-1866.
Summer rates for a shared 2-Bedroom Suite in Woodland Glen 4 (WG4)  are listed below:
| | |
| --- | --- |
| Summer 2023 | 2-Bedroom Suite |
| Monthly Summer Housing* | $788 |
| 12-Week Summer School Session | $2,364 |
| Daily Rate | $27 |
*Monthly Summer Housing is available during summer break—in a designated summer housing building—for students enrolled in the preceding spring term or the following fall term, but not enrolled in summer school.
Move-In for Summer 2023
Spring 2023 students who plan to remain living in campus housing for Summer 2023 will move to Woodland Glen IV between 10 a.m. and 2 p.m. on Tuesday, May 9.
All other new summer residents will move in throughout the summer based on their expected arrival date.
Move-Out for Summer 2023
Summer 2023 residents planning to remain in campus housing for the upcoming fall semester will move to their official Fall 2023 room assignment on Friday, August 4 from 12 p.m. to 4 p.m.
Summer 2023 students who are NOT planning to return to campus housing for Fall 2023 will need to vacate their summer room assignment by 5 p.m. on Friday, August 11.
Apply for Summer Housing
The Summer 2023 Housing Application will officially open on March 1.
Students in need of housing for the summer can apply by visiting the Campus Housing portal within myUK and selecting Summer Housing 2023. There is no deadline to apply for Summer Housing and UK will assign students based on their arrival and departure dates.