WELCOME WILDCAT FAMILY!
We are so glad that you and your student are interested in the University of Kentucky. At UK, we want the same thing you want: for students to succeed academically, grow personally, and have an enriching experience at the university. When students live on campus, they are more supported socially and academically, and tend to have higher GPAs than students living off-campus.
We are committed to supporting you and your student throughout their time at the University of Kentucky. We invite you to use the resources here to help answer the questions most frequently asked by residents and families.
To learn more about how you can support your student during their entire academic career, please visit the UK Parent and Family Association.
If you have additional questions, please feel free to contact us at:
Frequently Asked Questions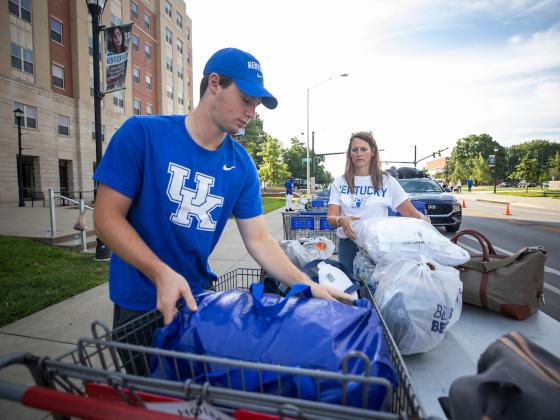 Big Blue Move-In 2023
UK Campus Housing is already preparing for our newest Wildcats to join us on campus. Move-in is an exciting time as students arrive on campus with their belongings, friends and family and move into the place they will call home. Big Blue Move-In 2023 will take place on August 14-16, 2023, so save the dates!