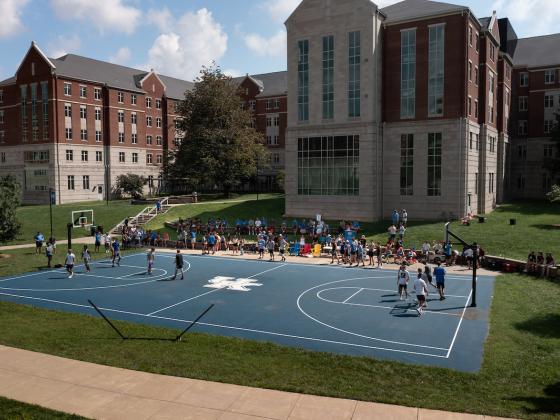 Returning Students
Applying for Housing
UK Campus Housing will begin accepting Housing and Dining applications for the 2024-2025 academic year on September 5, 2023. Returning students will be able to access the application and contract within the housing portal of myUK on that date. We encourage all students to apply for Campus Housing.  
2. Start Your Application
Applying early for housing is strongly encouraged. Complete the housing application in the housing portal of myUK following these instructions:
Go to myUK (myUK.uky.edu)
Log in using your linkblue username and password
Select Student Services
Select myInfo
Select Campus Housing to be taken to the Campus Housing portal
Select Undergraduate Application
Choose the correct Term and click Apply
3. Level up your success in an LLP
Visit the Living Learning Programs page and decide if you would like to participate in an LLP. This is a decision that will impact where you will live on campus and determine housing application deadlines. Even if you participated in the LLP this year, returning students who wish to participate next academic year must still reapply to the LLP. With the exception of Community of Scholars, all returning LLP members will be expected to live with another member of their same LLP. Some LLPs are designed for first-year students, but there are a few communities that accept returning students. View descriptions of all LLPs here.
4. Complete Your Application
Pay the $50 non-refundable application fee.
Review the UK Housing and Dining Contract (pdf) and share it with anyone involved in the financial aspects of your college decision. This contract is legally binding for the full academic year, which consists of both the fall and spring semesters, and cancellation penalties do apply. If you are under the age of 18, a parent or legal guardian will need to sign the contract. The contract will be signed when completing your Campus Housing and Dining Application within the Campus Housing portal of myUK.

Note: Your application is not considered complete until the $50 non-refundable application fee has been paid and the Housing and Dining Contract has been signed.
Cancellation Fees: Returning students must cancel their Housing and Dining Application and Contract for the 2024-25 academic year within the housing portal of myUK by February 28, 2024 to avoid cancellation fees. Please see the Housing and Dining Application and Contract for a complete list of cancellation fees. 

Upload proof of meningitis vaccination via the self report tool.
Choose a dining plan.
Submit your roommate request if you have one.
Review your application summary to verify details are correct.