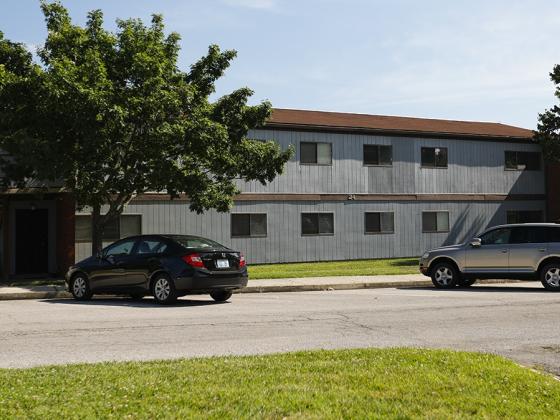 Located one mile from the University of Kentucky's main campus, Greg Page Apartments are within walking distance of the Arboretum in a park-like setting. The free campus bus service is available for Greg Page residents. Reservation priority for Greg Page is given — in this order — to families with children, families of more than two adults, two single individuals living as roommates, and then spouses with no other family members.
Hall Information
Address & Policies
Area of Campus:

Graduate/Family

Visitation Policy:

Unrestricted

Yes

Apartments are open during breaks.
Mailing Address:
(all mailing services including U.S. Postal Service, UPS, FedEx, etc.)
300 Alumni Drive
Apartment #
Lexington, KY 40503
Amenities
Centrally heated and air-conditioned
Vertical or Venetian blinds
Wall-to-wall carpeting
Shared laundry facility
Playground facilities
Rooms Offered
Two-bedroom residential units are primarily reserved for student families with at least one child.
Rates:
$867 per apartment/unit, per month