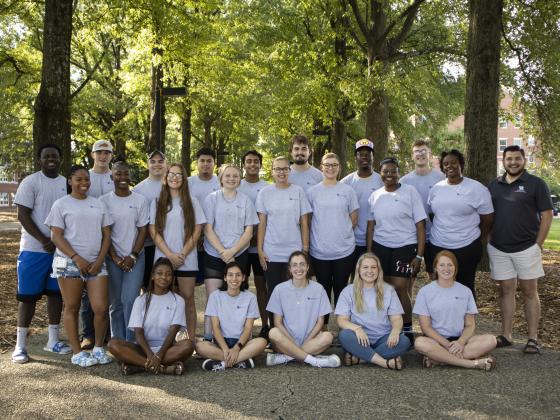 ResLife Employment
Resident Advisor (RA)
The RA position is a unique leadership opportunity for students who are interested in helping other students have success living and learning on campus! As an RA, you will gain valuable life skills assisting fellow students with the transition to university life, providing them a safe place to talk openly and explore ideas.
Position Description
Responsibilities
Resident Advisors (RAs) are undergraduate students who live and work on a floor or wing in the residence halls. RAs share your concern about classes, grades, and campus life. They help residents get acquainted, answer questions, distribute information, assist students with problems, and help uphold policies. RAs are trained to provide information to students or refer them to those on campus who can best assist them. Take some time to get to know your RA, they can be a great resource for you. Successful Resident Advisors will demonstrate proficiency in the following areas:
Productive Relationships - show commitment to getting acquainted to residents; show sensitivity to others; develop positive rapport; deal effectively with differences in opinion, status and culture; establish a trusting community.
Decision-Making - apply institutional and department knowledge to address violations of the Code of Conduct and other situations; navigate difficult situations utilizing department and campus resources.
CATS Engagement Planning - enable residents' community engagement, assist in residents' intrapersonal development, effectively facilitate one-on-one meetings with residents, community gatherings, and programs.
Student Academic Success/Resiliency - role model positive academic behavior to residents; assists residents by identifying positive and negative behaviors impacting academic success; identify appropriate campus resources for students in need; support an academically conducive environment.
Communication & Crisis Management - understand and implement appropriate methods of confronting, documenting, following up with, and/or mediating any incidents that may affect the well-being of the community; responds to emergencies following department protocol.
Administration - complete all administrative responsibilities in a timely manner; exercise good time management and organizational skills; maintain open lines of communication with supervisors and staff members.
Inclusion & Cultural Proficiency - show an appreciation for and seek to explore differences; help residents stretch beyond comfort zone of difference; appropriately challenge and respond to incidents of harassment and intolerance.
Leadership Development & Self-Understanding - understand role as a leader within campus and residential community; actively participates in group activities; balance multiple priorities, maintain good academic standing; utilize StrengthsQuest when approaching group tasks or conflict; identify ways to grow in position.
Professionalism - as some of the most visible student leaders on campus, it is important for RAs to recognize that residents and other students know who they are and watch what they do.
Qualifications
Be a full-time UK or BCTC student enrolled in at least one course at UK
Be of sophomore, junior, or senior standing
Be in good conduct standing
Have a 2.5 cumulative GPA
Have lived in a residence hall for at least one semester
Benefits
Experience - learning valuable leadership, communication & time management skills
Free Room
Partial Meal Plan
Opportunity for Paid Desk Hours
Priority Registration
Other Information
Upon offer of employment, successful applicants must undergo a national background check as required by UK.
The University of Kentucky is an Equal Opportunity Employer
Interested in Applying?
The Office of Residence Life anticipates posting the RA position in January 2023. Please check back here for more details.
For more information, contact Lisa Lockman, Assistant Director at (859) 257-4783 or lisa.lockman@uky.edu or Kenyatta Jeter, Associate Director at (859) 323-3246 or kenyatta.jeter@uky.edu.
Application Cycle
The RA application for 2023-2024 will go live in January 2023.