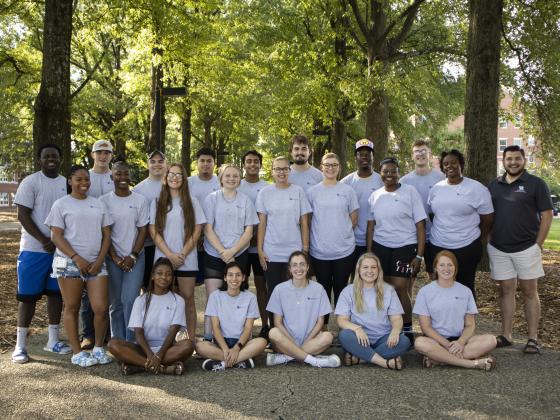 ResLife Employment
Resident Advisor (RA)
Resident Advisors are valuable members of the Office of Residence Life and work within our residential curriculum, CATS Engagement, to support student well-being and cultivate a sense of belonging by creating inclusive living and learning experiences within our residential communities.
CATS Engagement - Promote and support overall student well-being and sense of belonging by implementing strategies outlined in the CATS Engagement curriculum. Strategies include: CATS Up sessions, community gatherings, community building activities, signature events, and learning moments.

Leadership Development – Contribute to an atmosphere of teamwork by collaborating and participating in all required trainings, meetings, and development opportunities. Complete EDP 518 in the first semester of employment with a grade of B or better (tentative).
Resident Behavior & Support – Reflect and role model positive behavior and ensure safety and security through policy enforcement based on UK's University Housing Community Standards and Code of Student Conduct.
Communication & Administration – Communicate regularly with Resident Director and complete administrative tasks, including, but not limited to hall opening/closing, weekly staff meetings, 1:1s, on – duty coverage, and incident report writing.
Qualifications
To be eligible for the Resident Advisor position, students must be enrolled at the University of Kentucky and meeting the following requirements and qualifications:
Credit Hours: Enrolled in at least 12 undergraduate or nine graduate credit hours during the Fall and Spring semesters.
Grade Point Average: Maintain a cumulative GPA of at least 2.5 throughout employment.
University Disciplinary Record: Students will not be eligible for the Resident Advisor position, if at the time of the employment offer, at the start or during employment if:

They are on Academic Probation related to academic misconduct as identified in the Code of Student conduct; or
They have any active restorative action plans for non-academic misconduct as identified in the Code of Student Conduct.

Residence Hall Experience: It is preferred, but not required that candidates have lived in on – campus for at least one semester prior to start of employment.
Benefits
All RAs receive a scholarship to cover the cost of housing and meal plan. Students should investigate the impact the RA position may have on their financial aid package. Please consult with the Office of Financial Aid regarding RA remuneration and its implications. 
Other Information
Upon offer of employment, successful applicants must undergo a national background check as required by UK.
The University of Kentucky is an Equal Opportunity Employer
Interested in Applying?
The 2023-2024 RA Application has now closed. 
If you have specific questions about the position, contact Lisa Lockman, Assistant Director at (859) 257-4783 or lisa.lockman@uky.edu or Kenyatta Jeter, Associate Director at (859) 323-3246 or kenyatta.jeter@uky.edu.
Application Cycle
The RA application for 2023-2024 has now closed.