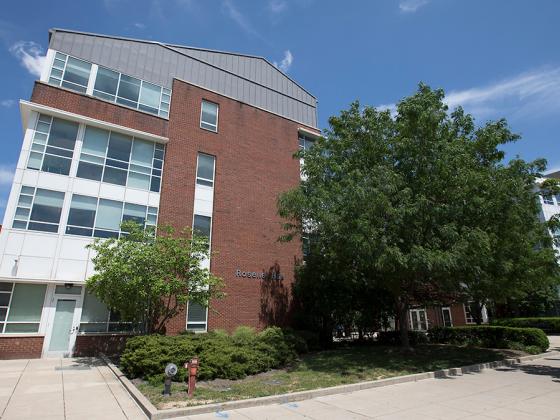 Opened in 2005, Roselle Hall was named for David P. Roselle, the ninth president of the University of Kentucky.
Hall Information
Address & Policies
Area of Campus:

North Campus

Visitation Policy:

24/7

Capacity:

151 Residents, 4 Floors

Co-ed

This hall is not open during breaks.
Mailing Address:
(all mailing services including U.S. Postal Service, UPS, FedEx, etc.)
[student name]
125 Avenue of Champions
[room number] Roselle Hall
University of Kentucky
Lexington, KY 40526-0095
Physical Address:
(for directions/GPS)
125 Avenue of Champions
Lexington, KY 40526-0095
Front desk phone: 323-1588
Amenities
24/7 staffed front desk
Air-conditioned
Twin extra-long beds (78" x 36" x 7"), multi-density polyurethane foam mattress, extra firm on one side and plush firm on the other side for user comfort.
Fully furnished rooms with moveable furniture: 3-drawer dresser, desk, desk chair, and a wardrobe (with 2 drawers) for each student.
Carpeting in bedrooms
High-speed wired and wireless internet access
Digital cable
Study areas on each floor
Laundry room on each floor ($1.50 to wash & $1.50 to dry)
Kitchen on each floor
Multi-purpose room on each floor
Bike parking
Refrigerator and microwave combination provided
Nearby
Roselle Hall is located in North Campus and is near the Gatton Student Center, University of Kentucky Bookstore, The Study and downtown Lexington.
Rooms Offered
Semi-private bedroom, semi-private bathroom.
Twin-size XL beds.
Located in Baldwin, Ingels, Smith and Roselle Halls.
View Room Dimensions: 4-Person Suite White
* Housing rates currently listed reflect the Fall 2023 - Spring 2024 room rates and are subject to change pending review and approval by the UK Board of Trustees.
Rates:
$4,138 per semester