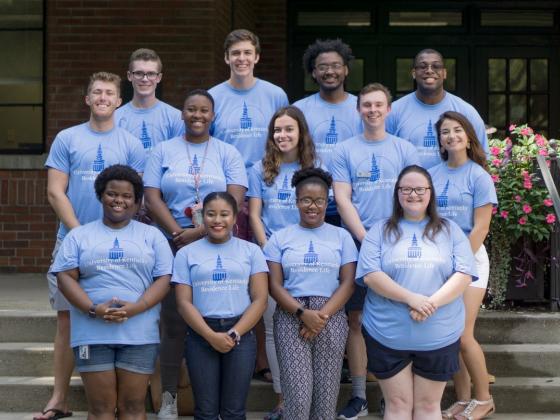 Senior Resident Advisor (SRA)
The SRA is a valuable member of the Residence Life staff.  SRAs provide leadership for fellow staff members as well as assistance to their Resident Director.
Position Description
Responsibilities
The Senior Resident Advisor (SRA) position is a leadership opportunity for RAs in designated residence halls. The Senior RA assists the supervisor for their hall with specific tasks in the operation of the residence hall. These are:
Coordinating the RA duty/desk schedule and the Night Desk Clerk schedule each semester
Developing team building activities for the staff throughout the year
Tracking RA programming requirements
Representing their staff on the RA Advisory Board
In addition, Senior RAs are asked to participate in RA Training by helping plan training activities, presenting programs, and leading discussion sessions during RA training in both August and January. This involvement may require Senior RAs to return earlier to campus. Finally, Senior RAs fulfill all other responsibilities of the RA position, including working desk. The Senior RA is not considered a supervisor for the other RAs in their hall, but an RA with additional responsibilities to assist the Resident Director.
Qualifications
Have served in the Resident Advisor position for at least one semester
Be a full-time UK or BCTC student enrolled in at least one course at UK
Be of sophomore, junior, or senior standing
Be in good disciplinary standing
Have a cumulative GPA of 2.5
Benefits
Experience -learning valuable leadership, communication & time management skills
Free Room 
Partial Meal Plan
Opportunity for Paid Desk Hours
Priority Registration
Stipend of $1200 during the academic year
Other Information
Upon offer of employment, successful applicants must undergo a national background check as required by UK.
The University of Kentucky is an Equal Opportunity Employer
How to Apply
To apply for a Senior R.A. position, submit a letter of application and resume to 575 Patterson Office Tower.
Upon offer of employment, successful applicants must undergo a national background check as required by UK Human Resources
For more information, contact Lisa Lockman at (859) 257-4783 or lisa.lockman@uky.edu.
Application Cycle
Applications have closed for the 2022-2023 academic year.