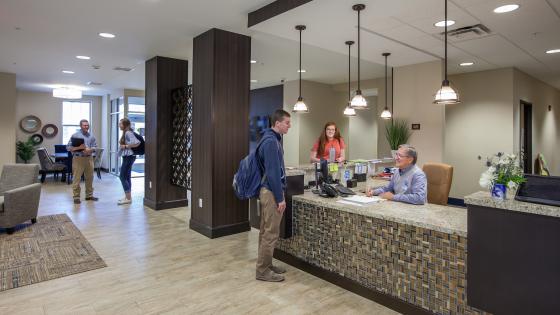 There are many wonderful amenities included or available during your stay.
Wi-Fi - There is Wi-Fi located throughout the building to keep you connected during your stay. 
24-Hour Front Desk - Our front desk is staffed 24 hours per day during to assist with anything you may need.​
Kitchen - Preparing your own meals while visiting is also an option. You will have access to a full kitchen on the fourth floor of the building. Pots, pans, and cooking utensils can even be checked out from the front desk.
Meeting Spaces - Whether you are hosting a group of 5 or 500, we have a gathering space for you. Please contact us to discuss your needs and find the best space for your event.
Linens - Fresh linens are given to guests upon check-in. Includes: 2 towels, 2 bed sheets, 1 blanket, 1 pillow, 1 pillowcase
North Campus
STUDENT CENTER - This on-campus eatery houses multiple restaurants and is the closest option to our North Campus facilities:
Starbucks (inside UK Bookstore)
Subway
Champions Kitchen (all-you-can-eat facility)
More dining options are nearby on South Limestone.
Central Campus
THE 90 - This on-campus eatery is home to multiple restaurants and is most convenient for our Central Campus facilities:
Starbucks is located in the William T. Young Library just across the street.