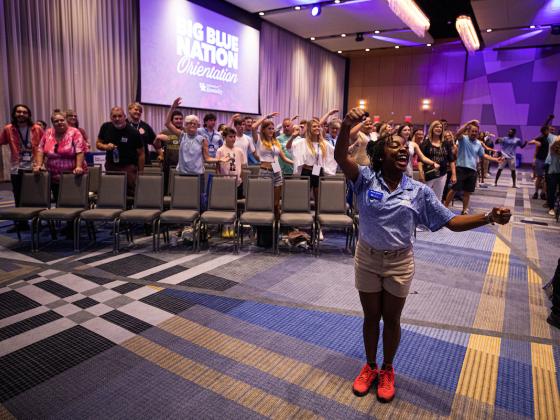 BBN Orientation Accommodations
Stay on campus during UK's summer orientation.
Students and their guests have the opportunity to stay on campus during their Big Blue Nation Orientation. Although not required, students and parents can enjoy the experience of staying on campus and the close proximity to all the BBNO activities. Those choosing to stay on campus will be housed in Jewell Hall, located on North Campus.
The RESERVE NOW button below will redirect you to an external site where you will be prompted to create an IRIS account to officially reserve your space. 
RATE

$35 per person, per night

Making reservations prior to arrival is strongly encouraged, but on-site reservations are also welcome. Payment must be made with a credit or debit card; cash and checks are not accepted.

CHECK IN
Guests can check in at any time on their selected arrival date. The front desk is staffed 24/7. At check-in, you will be given an access card for your room.
CHECK OUT
Guests are asked to check out no later than noon on their selected departure date. 

You will need to return your access card to the front desk upon check-out.
There are many wonderful amenities included or available during your stay:
Wi-Fi - Free Wi-Fi is located throughout the building to keep you connected during your stay. Simply join the network titled "UK Housing" and then open a browser to connect to our guest access.
Tempur-Pedic Mattresses - Comfort is still a priority. All mattresses in Jewell Hall are full XL Tempur-Pedic.
24-Hour Front Desk - Our front desk is staffed 24 hours during your stay to assist with anything you may need.
Printing - Need to print something at the last minute? We have a printer available for those last-minute needs.
Mini-Fridge - Each unit includes a mini-fridge as well as a microwave.
Kitchen - Preparing your own meals while visiting is also an option. You will have access to a full kitchen on the fourth floor of the building. Pots, pans, and cooking utensils can even be checked out from the front desk.
Linens - Fresh linens are available upon check-in. Includes: 2 towels, 2 bed sheets, 1 blanket, 1 pillow, 1 pillowcase
Parking is complimentary to guests on their orientation day and is located in Cornerstone Garage. Guests can pull alongside Jewell Hall via Lexington Avenue to unload belongings before proceeding to Cornerstone Garage.
Cornerstone Garage: 409 S. Limestone, Lexington, KY 40508
Jewell Hall: 344 S. Martin Luther King Blvd, Lexington, KY 40526
Campus Dining
A meal plan is not included with the daily rate listed above, but there are several delicious restaurants within a 5-minute walk of Jewell Hall.
Champions Kitchen - Located in Gatton Student Center, Champions Kitchen offers a large variety of food options for guests to enjoy. 
More dining options are nearby on South Limestone.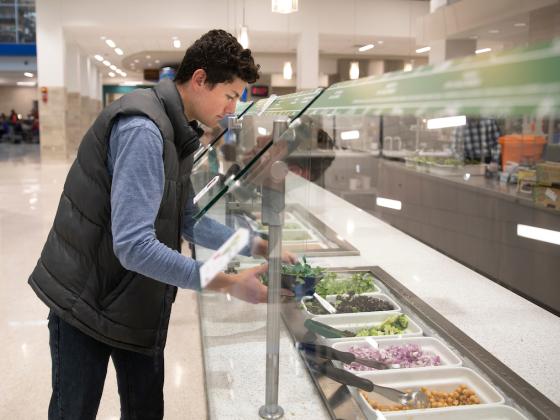 Order Textbooks and Purchase UK Apparel
Now that you've registered for your classes, renting or purchasing your textbooks is as simple as walking across the street. The Official UK Bookstore is located directly across the street from Jewell Hall. They will be open during your stay to help with your textbook needs and, of course, new UK apparel to show your Wildcat spirit!