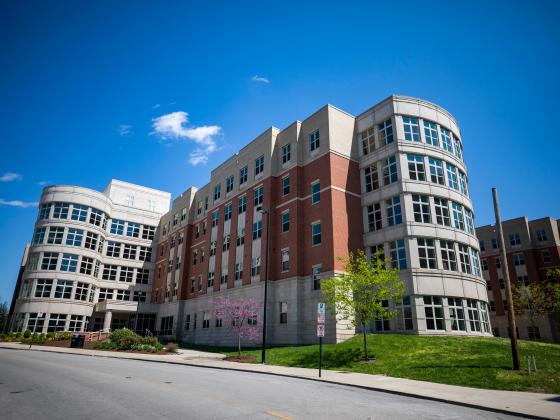 Opened in 2014, Blazer Hall is named for Georgia Monroe Blazer, who served continuously on the UK Board of Trustees from 1939 to 1961.
Blazer Hall houses the International Village Community and the Audre Lorde Social Justice Community.
Hall Information
Address & Policies
Area of Campus:

North Campus

Visitation Policy:

24/7

Capacity:

427 Residents, 5 Floors

Co-ed

This hall is open during breaks.

Residents will have an additional "break housing fee" applied each semester; visit the go.uky.edu/HousingRates page for details. Visit the Academic calendar for dates of academic recesses.
Mailing Address:
(all mailing services including U.S. Postal Service, UPS, FedEx, etc.)
[student name]
326 S. Martin Luther King Blvd.
[room number] Blazer Hall
University of Kentucky
Lexington, KY 40526-0123
Physical Address:
(for directions/GPS)
326 S. Martin Luther King Blvd.
Lexington, KY 40526-0123
Front desk phone: 629-3778
Rooms Offered
Individual bedroom, semi-private bathroom, granite countertops.
Full-size XL beds.
Rates:
$4,982 per semester
Individual bedroom, 2 semi-private bathrooms, granite countertops, living room and kitchenette.
Full-size XL beds.
Rates:
$5,211 per semester